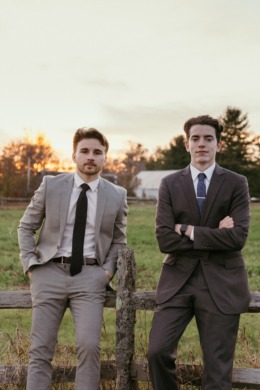 Introducing Our Dynamic Real Estate Team: Kyle and Sam - Your Trusted Partners in the Lake Sunapee Region

Our team is comprised of two exceptional individuals, Kyle and Sam, who bring their unique skills, expertise, and shared passion for the Lake Sunapee Region to deliver an unparalleled real estate experience. Together, we are dedicated to helping you achieve your goals, whether you're buying, selling, or investing in property.

Kyle, a native of the Lakes Sunapee Region, is a seasoned entrepreneur with a deep-rooted passion for business and assisting others. Growing up in this picturesque area, Kyle's intimate knowledge of the local market allows him to offer invaluable insights to his clients. His background in strategic and digital marketing, coupled with his proficiency in photography and videography, enables him to showcase properties in the most captivating way possible. Kyle's commitment to being relentless in everything he does, along with his creativity and innovation, ensures that he develops out-of-the-box solutions tailored to your specific needs. With empathy as a guiding principle, Kyle is understanding and supportive throughout every step of the real estate process.

Sam, also a native of the Lake Sunapee Region, shares a deep appreciation for the area's natural beauty and rural lifestyle. Having spent much of his life exploring the local lakes and mountains, Sam's understanding of the region is second to none. His early ventures in the business world, from designing bracelets in elementary school to co-founding a successful wedding photography company, have instilled in him a passion for client relations. Sam's travels throughout Europe broadened his perspective on the unique opportunities offered by the Lake Sunapee Region, fueling his drive to help others discover the charm and serenity of this remarkable area. With his innate creativity, unwavering passion, and ambitious nature, Sam is dedicated to bringing your wants and needs to life in the real estate marketplace.

Together, as a cohesive team, we offer a comprehensive and unparalleled approach to real estate. With our combined knowledge of the Lake Sunapee Region, proficiency in marketing, and commitment to exceptional client service, we ensure that every transaction exceeds your expectations. Whether you're a first-time homebuyer, a seasoned investor, or someone looking to sell their property, we are here to guide you through every step of the process.

Our client-centric approach is founded on empathy, understanding, and building lasting relationships. We believe in thinking outside the box, providing innovative solutions tailored to your unique requirements. With our unwavering dedication to your success and our relentless work ethic, we are committed to achieving optimal results on your behalf.

Experience the difference of working with a dynamic team that combines local expertise, entrepreneurial drive, and a passion for client satisfaction, contact Kyle and Sam.